Exploring Buddhist Teachings on a lively evening of talks, discussion, meditation and ritual. Open to everyone practising regularly at any Triratna Centre (familiarity with mindfulness of breathing and metta bhavana as taught in Triratna is assumed)
Sangha night provides inspiration, guidance and support by bringing consciousness to the connections between our inner and outer lives.
The evening programme starts promptly at 7.30pm – arrive from 7:00pm
no need to book
You can listen again to talks, or catch ones you missed here
Awakening the heart in a suffering world 
The heart is said to be the meeting point between our inner and outer worlds.  This year Sangha night is consciously travelling into this often veiled territory of the heart where our worlds meet.
Sangharakshita stressed the centrality of Going for Refuge to the Three Jewels (Buddha, Dharma, Sangha,) as the basis for a well led human life. For this reason our year of Awakening the Heart is focusing on the three refuges. We will be seeking inspiration and guidance from the exemplary Jewel of the Buddha's life, to engage and enliven the heart. We will be exploring the Dharma Jewel that frees and resources a responsive heart, and the Sangha Jewel that establishes supportive and inspiring ground from which we can step deeper into our own life; our own heart, and from there meet the suffering world.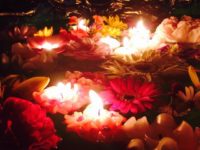 Having explored the Buddha and Dharma Jewels, we now move on to exploring the ruby red of the Sangha jewel…
24 Sept       Living from the Heart – Naravira
1 Oct         Weaving Sangha through Dana  – Bhadra
8                 Welcome back to Will from his ordination retreat
15               Dakini as Sangha Refuge – Prajnamati
22               Crucible of communication – Bhadra
29               Building Sangha through Forest Garden – Sagaravajra
5 Nov         Practice Evening – Naravira
12               Full Moon Puja
19               The Cremation Ground of Sangha – Satyalila
26               Personal Stories of Friendship, Sangha and Aryasangha – from mitras Judith,                       Sam and Eli
3 & 10 Dec  Brahma viharas with Naravira