Sangha night is for mitras, Order Members or anyone who's done an intro course with us. Our weekly chance to come together, hear and discuss the Dharma and meditate and make connections with one another. Do join us!
 Tools for Building a Sustainable Practice
Now, more than ever, we need to cultivate and strengthen our Dharma practice so that we can respond with resilience and creativity to whatever 2021 brings.  At Sangha Night this year, we are offering a whole variety of ways of building a sustainable practice using as a foundation and reference point one of the most tested and flexible sets of tools the Buddha gave us. These are the Five Spiritual Faculties – faith, energy, mindfulness, meditation and wisdom.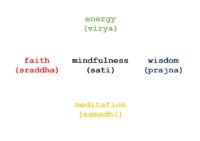 We'll be weaving these faculties together with guidance and inspiration through talks workshops, meditations, discussion, ritual and more. We hope as the classes progress, we can find from those attending, what it is they particularly need, to strengthen and sustain their own sustainable practice. We hope this will help us draw out the potential of these powerful tools in response to the specific needs of the Sangha as the year unfolds.
Sangharakshita wrote that with these five faculties we can grasp "all the moral and spiritual conditions necessary to the attainment of Enlightenment."  They are powerful tools which can be approached from many different angles. Back in 2008
He correlated them with the mandala of the five Buddhas and Buddhist Centre activities.  Find out more about these ideas here 
Weekly programme
16 & 23 Feb    Level Two Meditation Course Taster with Prajnamati
For those familiar with the basics of the mindfulness of breathing and the metta bhavana as covered in our intro courses and who want to go further towards establishing their own meditation practice. Meditation is a skill we can learn and develop over time with the right support and conditions, and a vital part of the 'Dharma Life' – a life lived towards ending suffering.
These two weeks are a taster for a course aimed at enabling you to develop your skill in working with these meditations, so that you can establish confidence in your own individual practice. Appreciating the spirit and intent of the practices – that they are both practices to cultivate and develop a state of integration and positive emotion – a state we call samatha or calm abiding – we will begin by looking at how to develop a sensitivity to the quality of balanced effort involved, and an openness to the spacious quality of breadth in awareness.
Material from 16 Feb on Balanced Effort:
Handout
Introductory Exercise
Talk and Exercise
Concentration and relaxation polarity map
2 March  Jvalamalini will be giving a talk in our series about how Order Members have built and sustained their practice, with reference to the 5 Spiritual Faculties
9 March Taranita gives an introduction to our new mini theme:
using the framework of the five spiritual faculties to look at  '20 points for dealing with overwhelm' 
16 March '20 points for dealing with overwhelm' – Mindfulness
23 March '20 points for dealing with overwhelm' – Vigour
30 March '20 points for dealing with overwhelm' – Faith
6 April 'Re enchanting the world: An introduction to Buddhist ritual. Part one'  
13 April 'Enacting the path: An introduction to Buddhist ritual. Part two'
20 April '20 points for dealing with overwhelm' – Meditation
27 April '20 points for dealing with overwhelm' – Wisdom
You can join us any time from 7.15 pm onwards if you'd like to say 'hello' to the other folk there.  We'll start the evening proper at 7.30 and it will run till about 9 pm.
If you'd like to catch up with what's been happening at Sangha night, subscribe to our
If you have problems with Zoom, email us and we will try to help techsupport@bristol-buddhist-centre.org