Sangha night is for mitras, Order Members or anyone who's done an intro course with us. Our weekly chance to come together, hear and discuss the Dharma and meditate and make connections with one another. Do join us!
Tools for Building a Sustainable Practice is our theme for the year:
Now, more than ever, we need to cultivate and strengthen our Dharma practice so that we can respond with resilience and creativity to whatever life brings.  At Sangha Night this year, we are offering a whole variety of ways of building a sustainable practice using as a foundation and reference point one of the most tested and flexible sets of tools the Buddha gave us. These are the Five Spiritual Faculties – faith, energy, mindfulness, meditation and wisdom.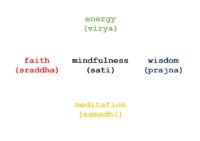 Sangharakshita wrote that with these five faculties we can grasp "all the moral and spiritual conditions necessary to the attainment of Enlightenment."  They are powerful tools which can be approached from many different angles. Back in 2008 he correlated them with the mandala of the five Buddhas and Buddhist Centre activities.  Find out more about these ideas here  six minute YouTube video.
Weekly programme:
15th June:
Have you wondered about how you could take your involvement with Buddhism and Meditation deeper? Following on from last week we will be exploring this theme further. The evening will split into two groups. One for those who are newer to the centre where we will talk about Triratna and also what becoming a Mitra means. And one for those who have been coming along some time and are already Mitras or Order Members, where we will explore further aspects of Triratna and its particular ways of approaching Buddhist practice.
22nd June:
Bhadra will be giving a talk on the four myths, a model of modalities of practice. The four myths are Self Development, Self Surrender, Discovery and Emergence. Each 'myth' represents a different approach we can take to our spiritual practice.
29th June: 
Taranita will be giving a talk on his practice of the Dharma within the framework of the 5 Spiritual faculties of Faith, Wisdom, Energy, Meditation and Mindfulness.
You can join us any time from 7pm onwards if you'd like to say 'hello' in the chat rooms to the other folk there.  We'll start the evening proper at 7.30 and it will run till about 9 pm.
If you'd like to catch up with what's been happening at Sangha night, subscribe to our
If you have problems with Zoom, email us and we will try to help techsupport@bristol-buddhist-centre.org
Catch up with the Rains retreat here: https://bristol-buddhist-centre.org/rains-retreat-14-21-may/
Material from 16 Feb meditation course taster on Balanced Effort with Prajnamati:
Handout
Introductory Exercise
Talk and Exercise
Concentration and relaxation polarity map