Vitarka – Applied thought and discussion in the Buddhist Tradition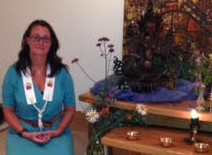 Introducing what we do….
For over a decade, Bristol Buddhist Centre have been hosting educational visits to and from schools, colleges and the wider community throughout Bristol, Somerset, Wiltshire, Gloucestershire and Dorset. Our Educational Team are Karunavapi and Alyson Hurst..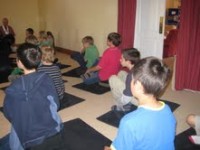 We tailor visits to the particular learning needs and interests of each group. These include an introduction to meditation, exploring Buddhist festivals, symbolism and ritual, discussions on ethics and precepts. We focus on the Triratna tradition of practising the Buddha's teachings within our daily lives.
Bristol Buddhist Centre runs on an economy of generosity. Our suggested donation for a visit is £3.50 per visitor for up to a 2 hour period, plus travelling expenses if we visit you.  We ask for a minimum donation of £55 per visit. Please give what you can to help us to continue this work.
To find out more about arranging a visit or borrowing the shrine box, please call Karunavapi on 07709284056 or email vitarkabristol@gmail.com
Borrow the Shrine Box…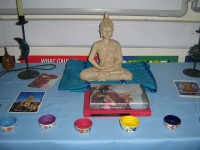 We offer a shrine box for groups to borrow so that you can build your own shrine. Buddhist shrines are an interesting focal point and can encourage an engagement with the symbolism and significance that they represent.
If you are interested in borrowing the shrine box please contact Alyson to book it and she will organise for you to collect it.  We ask for a donation of £15.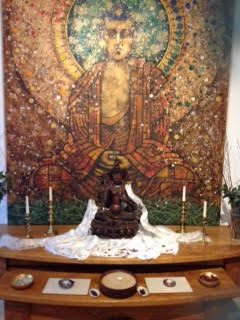 The box contains everything needed to build a shrine (except for fresh flowers). Guidelines of how to build a shrine, an explanation of the symbolism, why Buddhists build shrines and some simple exercises that you might want to use are also included.
To borrow the shrine box, please call Karunavapi on 07709284056 or email vitarkabristol@gmail.com
And finally…
Check out Clear Vision – an award-winning producer of Buddhist resources for schools.  Their website includes a wide range of audio-visual resources, Buddhist images and video lectures, clips and documentaries.  There are also online interactive Buddhist materials for schools and young people.