Going Deeper at Lunchtime
NB Summer recess after class on 2 Aug till it restarts on 20 Sept.
with Dayajoti and Bhadra.   Tea & discussion from 2 – 2.30pm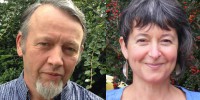 Come and join this friendly lunch time drop-in class, for those familiar with mindfulness of breathing and metta bhavana meditations. (If you need instruction in the basic practices you may find the Tuesday and Thursday classes more suitable).
The class will include suggestions for deepening practice, alongside guided or partially guided meditations. There is always space for questions and discussion as well as opportunities for one-to-one meditation reviews after the main class. (Whether or not you have particular issues or questions, just talking to someone about your practice can be very helpful.)
As well as Mindfulness of Breathing and Metta Bhavana practice, we include at times Just Sitting, walking meditation, standing meditation and other practices. We emphasize coming into an ever deeper connection with the totality of our experience.
Bhadra has a passion for helping to build creative connections between what we meet in meditation and the rest of our lives. Dayajoti is particularly interested in sharing ways to find enjoyment and relaxation within meditation, and help develop the insight dimension of these practices.
NB Summer recess after class on 2 Aug till it restarts on 20 Sept.