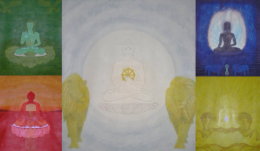 Missed Sangha night – or want to listen again to a talk?
Integration and the Realm of Akshobya
30 Jan : Dayajoti with 'Calming the Restless Mind'.
23 Jan : Jvalamalini with 'Touching Earth – Introducing Akshobya and Integration'.
16 Jan : Jvalamalini with 'Mandala of Practice – a Map for the Journey'.
9 Jan : Karunavapi with 'Mandalas: Mythic and Personal'.
6 Feb : Unfortunately Bhadra's talk didn't record but here's the write up:The mandala of selves and the mirror