The Buddha taught that 'friendship is the whole of the spiritual life' and at Bristol Buddhist Centre, and in Triratna generally, the practice of creating a vibrant spiritual community (Sangha) is essential.  As well as inspiring and supporting each other on the path, creating Sangha is a transformative spiritual practice in itself.
Bristol Buddhist Centre is a hub of the Triratna Buddhist Community which is a worldwide Sangha of thousands. People are involved at all levels – from a single visit one evening, through to making the lifetime commitment to practising in our Sangha which is ordination.
Steps into Sangha
Newcomers' sessions welcome anyone and everyone who wants to come and experience Buddhist practice for themselves – you don't need to be a Buddhist. It's good to 'shop around' and discover which approach to Dharma practice most suits you.
Our Sangha events are for those who'd like to find out more. No commitment is required, you just need to know the two meditation practices we teach, as the meditation isn't led through.
Becoming a Mitra (the Sanskrit word for 'friend') in the Triratna Buddhist Community signifies that someone has decided they are a Buddhist, that they are endeavouring to practise the five ethical precepts the Buddha taught and that they have decided that the Triratna Buddhist Community is the place where they want to 'put down the roots' of their practice. It's fine to try out lots of different approaches, but if we're going to take our practice deeper, we need make a commitment (provisional, at first) to a particular path and context.  Becoming a Mitra is just such a provisional commitment, and is marked in a simple ceremony.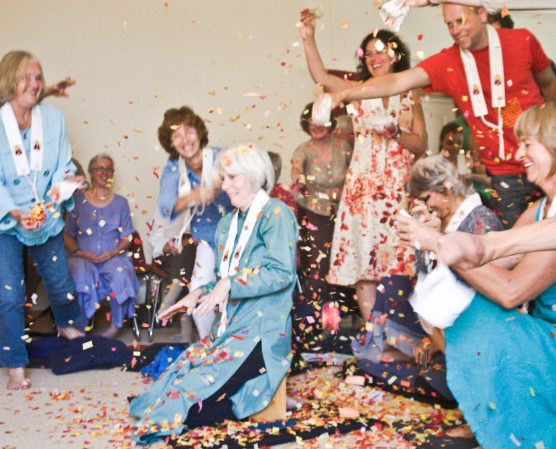 Joining the Triratna Buddhist Order signifies that someone has decided to make Going for Refuge, their practice of the Buddha's teachings, central in their lives and that they have the understanding and experience to do this effectively. Training for ordination takes a number of years and involves study and retreats, as well as deepening connections and friendships with existing member of the Order.
Fundamentally, the Triratna Buddhist Order is a network of friendships between people who have made a commitment to keep practising the Buddha's teachings together, to the best of their ability, for the sake of all beings.