We invite you to subscribe to our mailout to keep in touch with all the classes we are offering online in these complex times
'Sensitive to the whole body' is one of the Buddha's 'pith instructions'. What might it mean to us? How can we become more sensitive to the life of our body and breath? Here are two classes to explore this question.
Mindfulness in Movement – Qi Gong with Tim Mason
Tuesdays 10am – 11am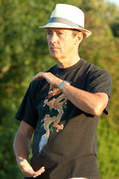 We will be focussing on simple yet fundamental practices for self-care and connection with what is supportive to all. These practices can be used at home or during your daily, exercise outing during the lockdown.
'Qi Gong' can be interpreted as 'cultivating energy' , which covers heart, body and mind.
See these links to get a flavour of what will be on offer.
Five Moving Forces https://bit.ly/2UDY0kv
Eight Brocades https://bit.ly/39Leb44
A useful guide which accompanies the Eight Brocade video is available as supporting information to assist your practice https://bit.ly/3ehffjn
Self Healing Form https://youtu.be/UMMvl1Y_G78
Sign into the Zoom Room from 10am – link here https://us04web.zoom.us/j/7358137717
Tim has trained in Qi Gong teaching with the Shiatsu College and has a Diploma in Mindfulness Based Approaches from University of Bangor
Body Dharma with Advayamati
Thursdays 10am – 11.30
Body-dharma yoga is a 'still flowing' form of Hatha yoga that incorporates Vinyasa flow, Scaravelli inspiration, somatic approach with a 'practical' mindfulness. These aid the integration of mind, body and spirit using the yoga of curiosity and letting go.
Trained yoga teacher Advayamati brings his experience of many years practice, leading workshops and retreats that combine shiatsu and energy work with teaching Buddhism and embodied mindfulness.
He offers a great gift for these difficult times.
To participate you need to set up Zoom on your computer.
Here is the invitation to the meeting
https://zoom.us/j/202129410?pwd=cW9ERm81bExkZFdXVEk4MnY5b05rdz09
Meeting ID: 202 129 410 Password: 024463
If you have problems with Zoom, then please email this address and one of the team will try to help you out techsupport@bristol-buddhist-centre.org