A retreat is a chance to get away from the noise and complexity of modern life in order to deepen your experience of yourself and of the world around you.
Below is a typical programme that our retreats follow. It can vary, but will follow this rough structure:
6.30am Rise
7.00 Meditation
8.45 Breakfast (free time)
10.30 or 11 Meditation or workshop in shrine room
1pm Lunch (free time)
4 or 4.30 Meditation
6.00 Dinner
7.30 Talks in shrine room and/or ritual
What to bring
Toiletries, towel, comfortable clothes to meditate in. You may want to bring a notebook and pen. The countryside around where we will be staying is lovely – so you'll need suitable clothing for going on walks and maybe some boots if it is wet.
Do you need to be a Buddhist?
You don't need to be a Buddhist to go on one of our retreats. Most of our retreats assume familiarity with our basic meditation practices and a willingness to try chanting, and so it's best if you've done one of our introductory and follow on courses.  If you're not sure if you're ready for a retreat, email us to discuss it.
What happens on retreat?
There will be periods of meditation, talks on aspects of Buddhism, as well as Buddhist devotional rituals, called 'pujas', which you are welcome to participate in if you wish. There will usually be small groups led by a team member in which you can share your experience of the retreat.
We try to provide a peaceful context that is free from distraction and interruption  We therefore ask you to turn off all mobile phones, laptops, and so forth, and not to contact anyone outside the retreat. In order to meditate effectively one needs to maintain clarity of mind, we therefore ask you not to drink alcohol or use any recreational drugs during the retreat.
Living Communally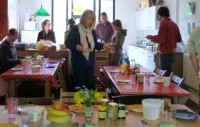 Living communally is an important and usually enjoyable part of the retreat. Accommodation will be in shared single-sex rooms and we will eat together as a community.
Living communally means caring for each other. The team leading the retreat are volunteers who are on retreat as well; they are not paid staff. So we ask you to help out with simple chores – washing up and chopping vegetables. A team member will oversee these daily tasks. Working together is a good way of getting to know each other, and it also helps us keep the cost of retreats to a minimum.
Our retreats are known for being friendly and harmonious; we ask retreatants to cooperate with each other and to refrain from harsh speech or anti-social behaviour.
Diet
Our food on the retreat will be vegetarian. If you need a special diet for medical reasons then we need to be notified as soon as possible and at least one week before the retreat starts.
Your welfare on retreat
For welfare and safety reasons please let us know if you have any disabilities or serious health problems such as diabetes or epilepsy, or any clinical mental health problems – particularly if you are on medication. No pets are allowed on the retreat. The retreat centre is a non-smoking venue.