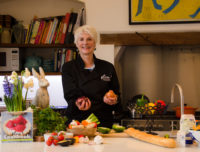 2 pm – 3.30 pm – Give peas a chance! – vegan workshop with Q&A 
Recipe sources, product info, health and nutrition tips/resources and more – and their relevance to Dharma practitioners. Plus a chance to share questions, successes and challenges. All welcome, whatever your current dietary persuasion.There may be chocolate. Led by Jane Easton, cookery teacher and writer.
3.45 pm -7.45 pm: Rattle those pots and pans. Sangha cook team wanted to work with Jane Easton! Help to prepare Sunday's sangha dinner (sign up for a shift: four hours or two hours. We need the equivalent of 16 hours: prepping, cooking, clearing up, setting up).   Email info@bristol-buddhist-centre.org to sign up and say which day/hours you can offer.
Sunday 29 July
4 pm – 6 pm: Final prep, heating up, setting up and serving food – 2-3 helpers needed
6pm: Dinner
Main course (all vegan and GF)
Mellow Caribbean vegetable stew
Coconut brown rice & peas
Fried plantain
Mango & tomato salsa
Dessert
Lemon & blueberry drizzle cake (regular)
OR Banana, date & walnut cake (GF)
Served with cashew cream or ice cream
7.00pm – 7.45 pm: The mindfulness of washing up