A weekend for women mitras: finding and negotiating ways to regenerate and renew ourselves. To nourish the brightness of our potential that longs to shine.
Led by Dayajoti, Dharmamrta and Karunavapi.
Experiential Dharma practice with workshops, bodywork, walking and group discussioin.
When we have become more aware, our minds more refined, and released spiritually, the question arises – 'What is there? What is left?'. What comes into being, in Sangharakshita's system of meditation, is a new being based on wisdom and compassion. That new being is the Bodhisattva. So the dharma follower is reborn (metaphorically) as a Bodhisattva. She becomes something quite new, quite different. Instead of being driven by ego it is the Bodhicitta that comes through us: this is the stage of spiritual regeneration.
In this stage we sense into the qualities of Awakening, how they feel in body and heart-mind; and imagine how they will feel and manifest when fully realised.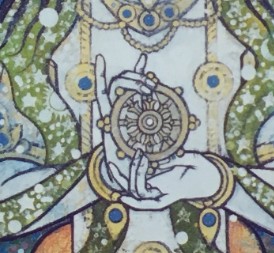 Please bring loose trousers for bodywork.
Non-refundable booking fees below