**Please note, Bristol Buddhist Centre is now closed until further notice in line with current UK Government advice regarding the Coronavirus (COVID-19).
Please subscribe to our mailout to keep in touch**
a 6 week course introducing Buddhism and meditation
Please note this course is now continuing online and is only open to those who have already signed up. We will have more courses later in the year.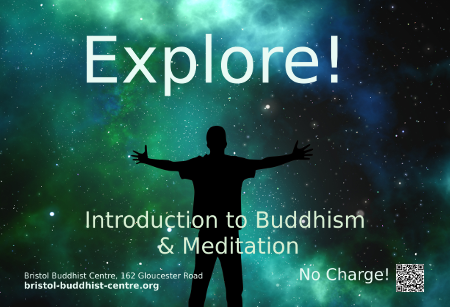 Want to explore your mind? Looking to make the most of your life? This six-week course introduces the core teachings of the Buddha and how you can use them to free up your energy, your imagination, and your perspective on the world.
On this highly practical course you'll get instruction in developing mindfulness and deep positive emotion through meditation, as well as key principles to take you from where you are now to beyond what you might think is possible. You will also be encouraged to continue the training practices at home and in your daily life.
Some comments on a previous course:
I greatly enjoyed the whole course; I thought it was well delivered, easy to understand and pitched at exactly the right level for somebody like me who had never been to any kind of Buddhist course or centre before. The atmosphere of the centre was warm and inviting
The sessions were very welcoming. I'd thought of attending a Buddhist group before but was always a bit shy. The group made it very inviting and the sessions were delivered excellently.
The individuals that run this course are informative, patient, with a great body of knowledge, friendly, caring and inspiring! Fantastic people and it's been a privilege to meet every one of them.
The course gave me the support and advice needed to start to engage in Buddhist principles throughout my day to day, giving me feelings of calm and contentedness. It's breathed a lot more positivity into my life. It was a great opportunity to meet like-minded people and hear other people's experiences of the teaching.
I got so much out of the course. It helped me to feel more capable and in control of my actions and also offered a much needed feeling of community.