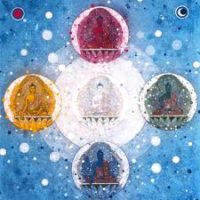 Amoghasiddhi and spiritual release
(Theme period 25 September to 12 November)
Amoghasiddhi outdoor ritual for women – led by Karunavapi
"Everything is held together with stories. That is all that is holding us together, stories and compassion"
– Barry Lopez
Do you notice yourself being critical of things in others that you don't enjoy about your own habits? There is a Turkish pagan myth that if we are critical, those things will haunt us and we will suffer the same problem. This is the origin of the tradition of knocking on wood  in order to prevent a confident statement from bringing bad luck. It originated from Turkish Shamanism, where people would knock on trees while entering a forest, in order to remove negative energy.
There is also the pagan tradition, originating from Central Asia, of tying a piece of cloth or ribbon to the branch of tree as a physical representation of a prayer, intention or wish for our best hopes to manifest.
During this evening, we will enact these physical representations of what we wish to release from and what we wish to move into. Facing our fears in the woods …
Saturday 27th October, 7.30 – 9.00pm
Meet 7.30pm at Manor Road car park, Abbots Leigh, Bristol BS8 3RP
Please let Alison (organiser) know on 07588 691193 if you're planning to come along, also whether you can offer / require a lift or will join us at the car park.
In the event of bad weather, please contact Alison to find out whether the ritual will be held at Abbots Pool or the Centre.
Vairocana and spiritual rejuvenation
(Theme period 13 November to 31 December)
Fri 7 to Sun 9 Dec weekend retreat for Bristol and Buddhafield mitras in Devon led by Karunavapi, Dayajoti & Dharmamrta.