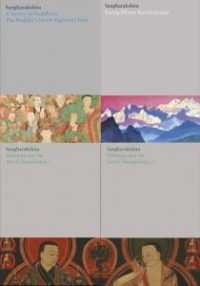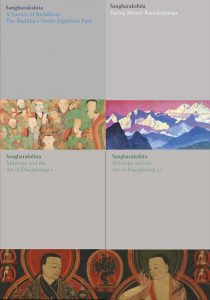 … a chance to encounter Sangharakshita through the Complete Works
open to Order members and mitras.
Sun 24 Nov with special guest Vidyadevi and Satyalila:
Sadly Dhivan has needed to cancel taking part in this session, but we're delighted to say that Complete Works Chief Editor Vidyadevi is able to come and spend the afternoon with us, exploring this key volume in the series.
Vidyadevi has been editing Sangharakshita's works for 3 decades and was good friend of his as well as now being chief editor of his Complete Works.  Besides working on dozens of Windhorse Publications books (not just by Bhante), she also compiled the Essential Sangharakshita for Wisdom Publications and has put together various collections of Bhante's writings independently, including The Purpose and Practice of Buddhist Meditation, Metaphors, Magic & Mystery, This is not a book: teachings on non-self  and 108 Ways of Looking at Death.     You can see Vidyadevi in the recent Clearvision video, Remembering Sangharakshita here (Vidyadevi is at 10 mins 25 secs in)
And here she is at work at home:
This session will explore Volume 2 (The Three Jewels I) which brings together all Bhante's main writings about the centrality of Going for Refuge and his thinking that led to the realisation that this was the defining characteristic which unites all Buddhists.   It's vital stuff for those who seek to understand and practise the Dharma in the Triratna context…
     2.30 – 5pm
Satyalila is part of the team producing Sangharakshita's Complete Works. Her life has been inspired and guided by Bhante's presentation of the Dharma for almost 25 years and she's keen to help others appreciate Bhante's 'radically traditional' approach to Buddhist practice. Listen to them here
The sessions will include an overview of each volume and a close look at a few selected passages. It's not necessary to own the volumes or have read the material prior to the session – though we hope you'll be inspired to explore further!
You can buy individual volumes in the bookshop or from windhorse publications (they are also available as ebooks) or subscribe to the whole series and help to fund this great project.