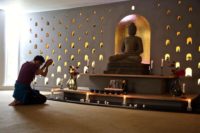 Here are the dates for our popular Big Sangha Retreat which we hold at the lovely Adhisthana each year. A great way to connect with the wider Bristol Sangha and take your practice deeper.
Led by the Centre team: Bhadra, Khemajoti, Naravira and Satyalila.
Open to all practicing within the Bristol mandala. It would be great to have loads of you joining us! (You need to be over 18!)
Booking is open until Monday 17th June.