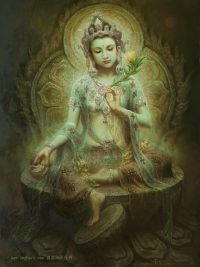 Two days for women & gender diverse with Karunavapi and Dharmamrta.
We invite you to join us to explore Verses for Training the Mind.
During the day we will be freeing our bodies and minds through releasing yoga and meditation.
On July 1st we will explore the following verse:
"May I always cherish all beings
With the resolve to accomplish for them
The highest good that is more precious
Than any wish-fulfilling Jewel".
And on the 30th:
"When I see ill-natured people,
Overwhelmed by wrong deeds and pain,
May I cherish them as something rare,
As though I had found a treasure trove".
10 – 5pm both days

Please bring loose clothing for bodywork and vegan lunch to share.