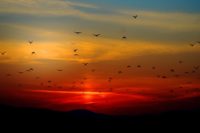 Radical relaxation: Great Compassion
Led by Karunavapi and Janaka
Continuing our exploration of the mandala of spiritual practice with a deeper look at Spiritual Receptivity. This retreat will focus on Just Sitting, a practice in which we're open to the whole of our experience which forms a vital balance to structured practice, and is also the centre of the meditative mandala, where everything culminates in an experience which Sangharakshita describes as 'existential relaxation'.
Guided meditations will explore ways into the practice, how to avoid possible pitfalls, and how to set up the conditions for this radical relaxation and simplicity of true 'Just Sitting'.
We will reflect on the qualities of the archetypal Buddha, Amitabha, with his lotus, softness and openness to growth which comes naturally as a result of receptivity. The deep red Buddha inviting the rite of fascination…
The programme will include meditation, talks, reflection, discussion, workshops and walking in beauty.
For those with at least three months' experience of the Mindfulness of Breathing and the Metta Bhavana. You need to be 18 or over to attend the retreat
Booking fee £120. Book now
The booking fee is calculated to cover the basic costs of accommodation and food and is non-refundable.