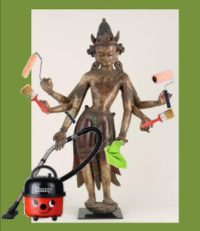 Each year we close the Buddhist Centre to the public in August so that we can focus on essential cleaning and maintenance.  This is also an opportunity for us to come together as a Sangha and practice in a different way, by working together like we do on our weekly Wednesday 'Sangha Works' mornings. (Tho' Sangha Nights will also continue through August with simple practice nights/pujas.)
We work from 10 am – 4 pm each day and the dates for this year are:
Weds 8 Aug
Thurs 9 Aug
Tues 21 Aug
Wed 22 Aug
Thur 23 Aug
Fri 31 Aug
Sat 1 Sept
Sun 2 Sept
More details nearer the time!