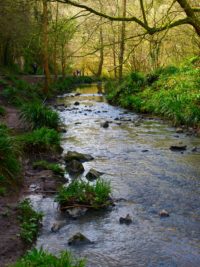 A new venture and opportunity to connect with the countryside, inner experience, and others in the Sangha.
Sunday 8 July – Blaise Castle  (NW Bristol), approx 5 miles, led by Alison Mendoza
A walk through the beautiful woodlands of the Blaise Castle Estate, incorporating fine panoramic views from the top of the gorge, unique rock formations, Hazel Brook (a tributary of the River Trym), and designed landscape features such as Rhododendron Walk, Beech Cathedral, Lily Pond, and Tarn Lake. We will stop for a picnic lunch beside the Gothic castle folly before continuing on through the Estate via the ancient St Mary's churchyard. Part of the walk (about 20-30 mins) will be in silence. Tea and cake at Alison's house when we arrive back. The walk takes a bit over 2 hours and uses both woodland trails and surfaced paths, covering a mixture of terrains including two relatively steep ascents/descents. Meet at 11.30am at Alison's house in Henbury (full address to be given to drivers nearer the time). Please bring a picnic lunch.
Please let Alison know on:sanghawalks99@gmail.com if you are planning to come on a walk, also whether you can offer / require a lift from Bristol or will join us at the start of the walk.  Lift shares operate on the basis of folk making a contribution towards petrol costs.
Walk leaders are needed in the months ahead so let Alison know if you're interested. Thanks
Sunday 5th August – Crook Peak, 6 miles – led by Beate Lippik
This dramatic West Mendip walk, mainly on tracks and paths, focuses on Crook Peak, the only pointed peak in the Mendip Hills. En route it also explores nearby King's Wood, Wavering Down, Barton Drove and Compton Bishop – all of which are worth visiting in their own right. The walk is 6 miles long, walking time about 3.5 hours, with uphill walking, including two to three steep stretches and one long prolonged descent. However you will be richly rewarded with spectacular vistas covering a very wide panorama (on a bright day). There will be a period of silence during the walk. Start point: free car park at King's Wood, Winscombe Hill, BS25 1DH (off the A38, near Sidcot). Meet 10am at Bristol Buddhist Centre for lift shares, or 11am at the car park. Bring packed lunch, water, and snacks for picnic.