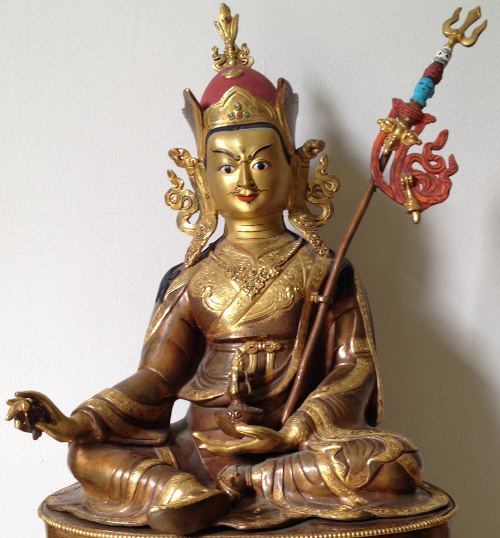 Celebrating Padmasambhava

Padmasambhava is an important figure in the Buddhist tradition and in Triratna.  He stands at the mysterious crossroads where history and myth meet.  He's said to have lived in the 8th century but the story of his 'Life' transcends space and time.  He is the tantric guru par excellence, transforming demon energies into spiritual qualities.  He is Padmasambhava the sorcerer as well as Padmasambhava the monk.  He shape-shifts and fascinates us to go beyond ourselves into unimagined realms.
Bhante Sangharakshita has a particular connection with Padmasambhava – one of his teachers gave him the name 'Urgyen' which means 'belonging to the land of Uddiyana' (birthplace of Padmasambhava).  He once said that he felt that Uddiyana was his 'true home'.
This is the third of our evenings dedicated to Padmasambhava this session.
the text of Satyalila's talk from the first eve: here
7.30 – 9.30pm   For all those practicing with Triratna whether or not you've 'met' Padmasambhava before!