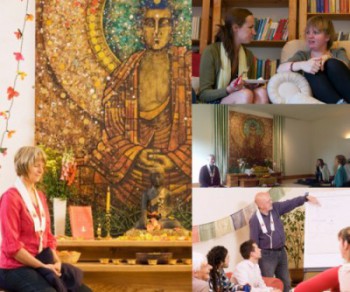 Whether you're looking to find a little peace, make better choices, enrich your life or to find a meaningful spiritual path, you'll find something here for you.
We're keen to develop a culture of generosity so there is no charge for these sessions, but we'll invite you to give what you can. Of course you don't have to give anything if you don't want or can't afford to, but we hope you'll be able to contribute appropriately to the running costs of the centre so more people can benefit. (Each visit costs an average of £11)
Introduction to Buddhism & Meditation Courses
Our six week introductory courses are the best way to try Buddhism for yourself.  Suitable for complete beginners, you can learn some Buddhist tools for change, bringing aliveness, contentment and meaning to your life. A course will allow you to build your understanding week on week, & is also a good way to make new friends.
Click for more info on next course
Drop-In Sessions
These sessions are for anyone interested in getting a taste of Buddhist meditation . Suitable for complete beginners – just turn up.
Thursday Lunchtime Meditation 1-2 pm
Monthly Saturday Morning Meditation, 10 am – 1 pm.
Next Saturday dates:   17 Feb,  24 Mar, April tbc, 26 May, 30 Jun, 28 Jul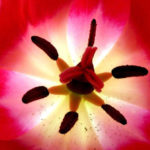 Try something new on a Saturday morning – full introduction to two effective meditation practices – suitable for complete beginners.
Introduction to meditation every Tues & Thurs lunchtime 1-2pm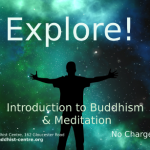 Looking to find out about Buddhism and meditation?