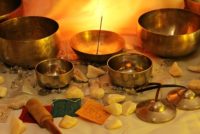 Join Karunavapi and Beth Jones for a session of Buddhist mantra, chants and songs. Harmonies will be introduced. As devotional practice, no experience or skill in singing is required.
Sangha members are welcome to bring your own children. There will not be a separate activity organised for children.  In order to meet our safeguarding policy, any children you bring will need to be supervised by you at all times.
The session will include devotional practice, sitting and walking meditation as well as chanting and singing.
14.00 – 16.30