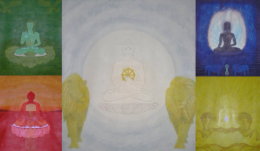 Akshobya & integration
(Theme period 23 Jan to 20 March)
Gazing at the blue Buddha, seeing clearly into self. Reflections :Integration & Aksobhya reflections and rituals
"Although our mind often feels fragmented or divided against itself, we should remember big mind, and remind ourselves that behind the confusion is at least the possibility of a sense of clarity and expansiveness where all our conflicting mental and emotional experiences disappear in a calm, pure awareness. We can perhaps think of a vast ocean that on the surface is whipped into mighty waves, but further down, in the depths, is calm"  Paramanada A Deeper Beauty P50
Open to any woman familiar with the mindfulness of breathing, metta bhavana and Triratna ritual
Tuesday 20 march 6-7am Spring Equinox outdoor ritual at dawn (6.13am) at the water feature on Brandon Hill. Organised by Beate. Led by Dharmamrta. Meet at the water feature below the tower.
Ratnasambhava & positive emotion
(Theme period 21 march to 2 July)
Friday 30 March to Mon 2 April long weekend retreat for women led by Karunavapi & Dharmamrta.
Thursday 21 June 11.30-12.30am Summer solstice outdoor ritual at noon on Glastonbury Tor. Organised by Trish. Optional ritual at Chalice Well with meditation and ritual offerings.
Amitabha and receptivity
(Theme period 3 July to 24 September)
Sunday 9 September 10-5pm retreat day Bristol Buddhist Centre led by Karunavapi.
Sunday 23 September 6.45-7.45pm Autumnal equinox outdoor ritual at sunset (7.06pm). Meet at Sand Bay car park on south side of Sand Bay. Organiser tbc
Fire mandala ritual with fire! Facing the west to watch the sunset over the water.
Amoghasiddhi and spiritual death
(Theme period 25 September to 12 November)
Saturday 27 Oct 7.30-10pm outdoor ritual led by Karunavapi. Meet 7.30pm at Manor Road car park at Abbots Leigh. Night walk through the forest to a pool. Lanterns provided!
Vairocana and spiritual rebirth
(Theme period 13 November to 31 December)
Fri 7 to Sun 9 Dec retreat for mitras in Devon led by Karunavapi, Suryadaya & Dharmamrta.
Friday 21 December 8.30-11pm celebrating on winter solstice (10.23pm) led by Karunavapi at the Buddhist centre. Renewal ritual by the fire with chai and chanting.