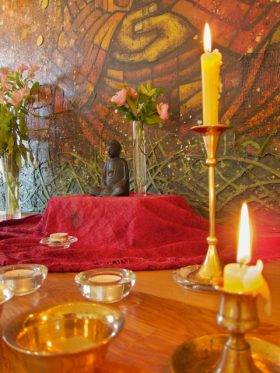 Missed Sangha night? Or want to listen again to a talk?
Integration and the Realm of Akshobya
Talk 1 – 9th Jan 2018: Karunavapi with 'Mandalas: Mythic and Personal'.
---
21st Century Buddhists
Talk 1 – 28th Nov 2017: Will Elworthy on Work
Talk 2 – 5th Dec 2017: Unfortunately Steven Greer's talk on his work as a University Professor was not successfully recorded.
Talk 3 – 12th Dec 2017: Chittamani talks about his work in foster caring and social work in the context of his practice as a Buddhist.
Talk 4 – 12th Dec 2017: Michelle Healy talks about Dharma practice and her role as a mother.
Talk 5 – 19th Dec 2017: Bodhipushpa gives a talk entitled 'The Perfectly Imperfect Path of Parenting Towards Enlightenment'.
---
Dhivan on the Pali Canon from October/November 2017
Talk 1: The Discourse to the Kalamas
Talk 2: The Discourse on the Turning of the Wheel of the Dharma
Talk 3: The Discourse on the Not-Self Characteristic
Talk 4: The Fire Sermon
---
Sangha Day Festival Talk from Jvalamalini
As Garlands From a Heap of Flowers
---
Mindful Emotion Book Launch from Paramabandhu on 17th October 2017
---
The Cosmic Mythic Vision of the Mahayana Sutras from Jvalamalini Sept 2017
Talk 1: Approaching a Magical World
Talk 2 not recorded
Talk 3: The Buddha beyond the Buddha
Talk 4: Myth to live by today: Triratna Buddhist Order
---
The Worldly Winds from Taranita, July 2017
Talk 1: Introduction to the Worldly Winds
Talk 2: The Worldly Winds 2: Gain & Loss and Praise & Criticism
Talk 3: The Worldly Winds 3: Respect & Disgrace and Pleasure & Pain
Talk 4: The Worldly Winds 4: It's All About Me!
---
Jvalamalini: the space between Buddha Day and Dharma Day, 4 July 2017
---
Buddhist Action Month June 2017
Only Connect – Vimalavajri
Indra's Net, Self, Sangha and World – Jvalamalini
The Buddha's Conversations with Kings – Vajratara
---
Prajnamati: The Point of Freedom  30 May 2017
---
The Wheel of Life series from Bhadra, May 2017
Talk 3: self created universe
Talk 4: breaking the circle by resting in the gap
Talk 5: the gap and the buddha mandala
---
Who is the Buddha – really?  Buddha Day talk from Vajrasara
What Triratna Means to Me:
28 March. Joy Farrimond;  Mark Childs;   Will Elworthy
---
Imagine:
Imagine, Week 4 – Sangharakshita and our own tradition: the Role of Imagination and the Future of Buddhism – Satyalila.  Audio & Notes  31 Jan
Imagine, Week 3 – Tantric Buddhism and the Mandala: transforming energy – Satyalila. Audio & Notes 24 Jan
Imagine, Week 2 – Mahayana stories & parables: watering the roots – Satyalila. Audio & Notes  17 Jan
Imagine, Week 1 – The Buddha and his teachings: introducing imagination – Satyalila. Audio &  Notes  10 Jan
---
Suryadaya describes her recent retreat at Adhisthana including a vivid description of the venue itself.  3 Jan
---