Our Future Dharma — What the World Needs Now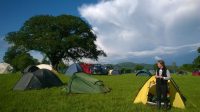 Triratna Buddhist Centres from across Europe, Adhisthana and Buddhafield are joining forces for the fifth Triratna International Gathering.
At a time when there seems to be increasing uncertainty, upheaval, polarisation, intolerance and conflict in the world the International Gathering will explore what we have to offer the world in the next 50 years.
Camping, great Dharma talks, meditation, workshops, children's activities – ALL WELCOME!