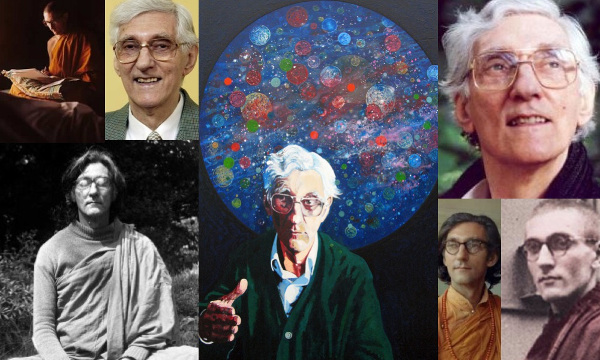 a chance to encounter Sangharakshita through the Complete Works
The first volumes of Sangharakshita's Complete Works  have now been published and this has inspired Dhivan and Satyalila to offer some half-day study sessions this autumn for Mitras, Order Members, and those considering becoming a mitra. It's an opportunity to get a sense of the many dimensions of Sangharakshita and the diversity of ways in which he has communicated the Dharma. It will also enable us to consider the context in which he gave various teachings – a vital aspect of understanding his work for future generations.
Dhivan is a Buddhist scholar and also a poet who has an appreciation of Bhante's emphasis on the arts as a vital aspect of spiritual practice. Satyalila has recently joined the team producing Sangharakshita's Complete Works. Her life has been inspired and guided by Bhante's presentation of the Dharma for almost 25 years and she's keen to help others appreciate Bhante's 'radically traditional' approach to Buddhist practice.
The sessions will include an overview of each volume by Dhivan and Satyalila and a close look at a few selected passages. It's not necessary to own the volumes or have read the material prior to the session – though we hope you'll be inspired to explore further!
And if you are curious about why a Complete Works? Satyalila gave an excellent talk on this earlier in the year and the pdf is here – unfortunately the recording is lost: Sangharakshita Complete Works intro by Satyalila April 2017
Sunday 1 October, 10am – 1 pm:  The Rainbow Road, from Tooting Broadway to Kalimpong (the first volume of Bhante's memoirs) If you missed this – here are the extracts we looked at: The Rainbow Road extracts
Sunday 22 October  10 am – 1 pm:  The Three Jewels II (Who is the Buddha? What is the Dharma? What is the Sangha?)
Sunday 26 November  2–5 pm:  Mahayana Myths & Stories (The Drama of Cosmic Enlightenment, Transforming Self and World, The Inconceivable Emancipation).